Vanilla Bean Olive oil Ice cream for a charming date
Last Update : October 5, 2017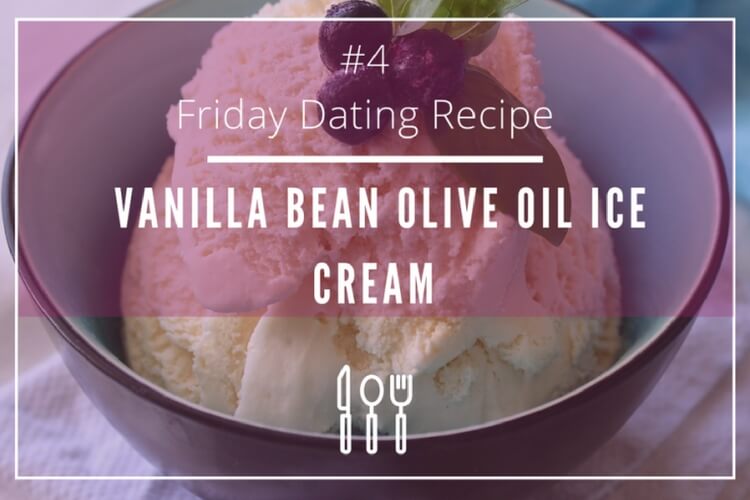 Vanilla to help you share sweet words…
Vanilla is very characteristic for its calming scent and exotic taste. Two very important elements as love and Romance are strongly dependent of two of our senses : the taste and the smell.
It is indeed in the sweet aroma of vanilla that people experience sexual arousal.
But it is not only in the scent, ingested vanilla helps improve body functions as it is a natural nerve stimulant that increases muscular energy, improves circulation and has a euphoric effect on the brain. A great ally for a romantic evening that could end up with a dessert on a sofa, getting next to each other while having deep conversations…
When it comes to vanilla ice cream it is considered as one of the best « endurance food ». It contains high levels of calcium and phosphorous, two basic minerals in our body that are in charge of building muscle's energy and boosting libido.
Flavour and scent are the two main weapons of Vanilla : it relaxes and reduces inhibitions and stress. If you want to create a charming atmosphere during your date so you partner feels comfortable, this vanilla ice cream will help you create a romantic night to get to know each other.
Set the romantic mood to your evening with the help of a vanilla ice cream and put in motion your senses !
Home-made ice cream for a date with enchantment
This refreshing ice cream is a great dessert to finish a romantic dinner with a flirtatious touch. Although the recipe suggest preparing the Vanilla Bean Olive Oil 4 weeks before, this oil can be easily substituted by any nice quality olive oil.
Ingredients
• 1⅓ cup (330 ml, 10.5 fl oz) whole milk
• ½ cup (100 grams) sugar
• Pinch of salt
• 6 large egg yolks
• 1 cup (250 ml, 8 fl oz) heavy cream
• ½ cup (125 ml, 4 fl oz) vanilla bean olive oil, plus additional for serving
• 1 teaspoon vanilla extract
• Coarse sea salt, for serving
Vanilla Bean Olive Oil:
• 1 cup (250 ml, 8 fl oz) quality olive oil
• 2 vanilla bean pods
• 1 blueberry
Preparation
To prepare Vanilla Bean Olive Oil
Pour one cup of olive oil into a jar and expose with the help of a knife the beans of the vanilla pods.
Once this done, put the vanilla pods into the olive oil and close the jar with a lid. Let it sit or 3 weeks making sure you shake the jar at least once a week.
To prepare the ice cream:
Using a medium saucepan over medium heat add the milk, sugar and salt and stir until the sugar dissolves. The heat should be kept until steam and bubbles start to appear on the sides.
On a larger bowl, whisk the egg yolks and slowly start to pout de scalded milk in a steady stream while continuing whisking. Once finished, poured the mixture into the sauce pan and put it back to medium heat. Stir until the mixture thickens enough to cover the back of a spoon.
With the help of a mesh trainer, pour the mixture into a bowl. Whisk the cream a vanilla and pour the vanilla bean olive oil while continuing whisking eagerly until every is mixed.
Once it has chilled, freeze the mixture.
Serve it with olive oil,  salt and an optional blueberry on top.